Saleen
---
Saleen makes a truck that is based off of the Ford F-150, and has a new vehicle that builds off of the resurrected Ford Bronco. Their signature offering, however, is the iconic Saleen 302 Mustang, which is available in a variety of trims. These are referred to as the White, Yellow, and Black labels.
Saleen 302 White Label
Simply put, the Saleen White Label Mustang is an absolute beast of a car. Despite slotting in below the Yellow & Black Label models, it features a 302CI 4-valve DOHC V8 engine that puts out 500 horsepower and 440 ft.-lb. of torque. This gets Iowa Saleen owners a 0-60 time under 4.2 seconds, providing that thrill of acceleration down Story County backroads.
Read more about the Saleen 302 White Label
Saleen 302 Yellow Label
The Yellow Label 302 Mustang has a supercharged 302CI V8 engine that outputs a stunning 740 horsepower with 610 lb-ft of torque. Going from 0-60 in a blistering 3.7 seconds, the Yellow Label Mustang is a true joy to take to the track or on a weekend joyride. 
Read more about the Saleen 302 Yellow Label
Saleen 302 Black Label
Like all of the 2021 Saleen Mustangs, the Black Label version boasts a 302CI 4-valve DOHC V8 engine, this time tuned to output a tremendous 800 horsepower and 630 lb.-ft. of torque. Heads will turn everywhere you go in this magnificent vehicle. The Black Label 302 has a number of other exceptional performance features.
Read more about the Saleen 302 Black Label
The Saleen Bronco
The Saleen Big Oly Bronco is named after a famous vehicle. The Baja 1000 is an intensive, world-renowned race that takes drivers off the road. Winning the event is a Herculean task. Parnelli Jones managed to do so twice, back-to-back, and all while driving a vehicle called Big Oly. Thus, Saleen named the new Bronco for him.
Read more about the Saleen Bronco
Saleen Sportruck
Saleen has designed their own vehicle based on the F-150 called the Saleen Sportruck, and this demonstrates what sets the company apart from other performance manufacturers. With bold styling and powerful engine options, the Sportruck could be the performance pickup of your dreams.
ROUSH
---
ROUSH produces custom Ford vehicles and sells aftermarket parts for the same. The company is perhaps best known for its extensive lineup of modified F-150 trucks. This lineup includes the blacked-out Nitemare, the off-roading beast that is the ROUSH Raptor, and the ROUSH Super-Duty, which can handle the toughest jobs.
ROUSH Stage 2 Mustang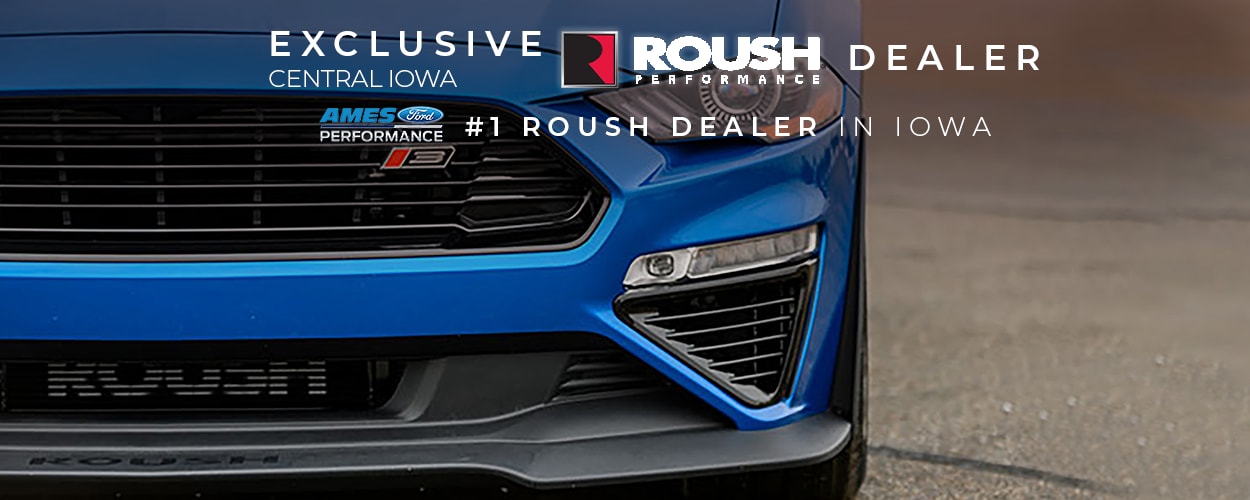 The 2020 ROUSH Stage 2 Mustang puts Iowa drivers in control, with unmatched handling, performance, and customization options. The ROUSH Stage 2 Mustang, or RS2 for short, brings all the custom touches that ROUSH Performance is known for. Whether you want to hit the track or just turn heads in Ankeny with your custom Mustang, it doesn't get much better than the RS2.
ROUSH Stage 3 Mustang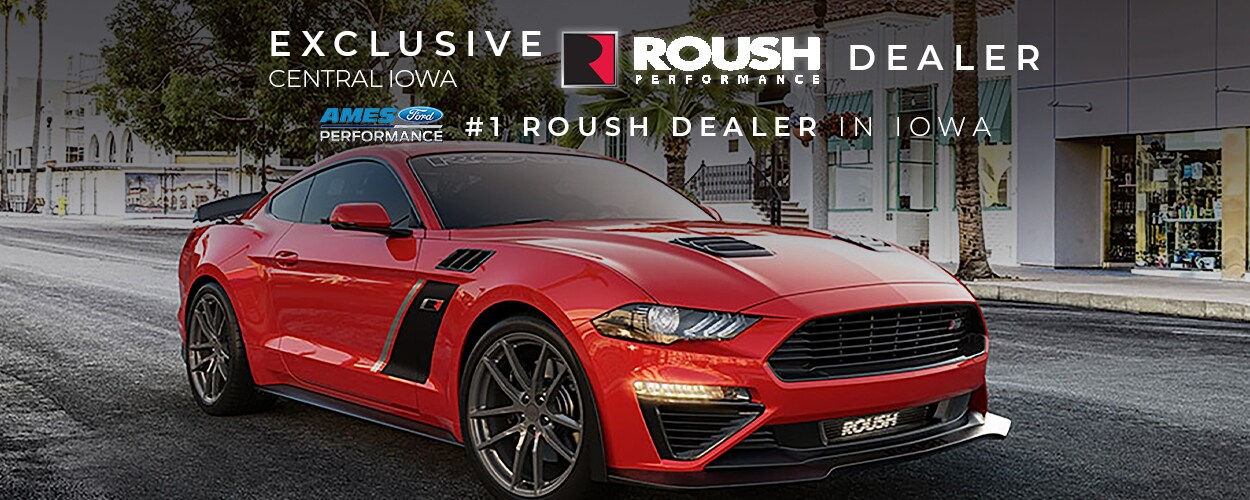 If you are not familiar with ROUSH vehicles, then you have been missing out on the highest-performance custom Mustangs for sale in Iowa. And there is no better example than the ROUSH Stage 3 Mustang. The ROUSH Mustang Stage 3 offers 750 horsepower, performance upgrades, and unique interior and exterior elements. It is unlike any other Mustang you will find in Iowa.
ROUSH F-150
Upon first glance, there's no mistaking the 2020 ROUSH F-150 for a stock Ford model. With its aggressive grille and stance, the ROUSH F-150 cuts an imposing figure. However, design elements also contribute to clean lines and a cohesive identity. Some of the unique touches include accent lighting in the grille and fender flares, as well as ROUSH puddle lights. Combined with the unique front bumper cover and customizable graphics packages, Iowa drivers will enjoy an unbeatable level of style and class with the 2020 ROUSH F-150.
ROUSH F-150 SC

Iowa drivers who want a ROUSH F-150 with more power will love the F-150 SC. While in many ways equipped similarly to the standard ROUSH F-150, the F-150 SC comes with the famous ROUSH Supercharger. The 5.0l V8 of the stock F-150 is pumped up to a whopping 650 horsepower and 610 lb-ft of torque. That's over 250 horsepower and 140 lb-ft of torque more than a stock Ford F-150.
ROUSH F-150 Nitemare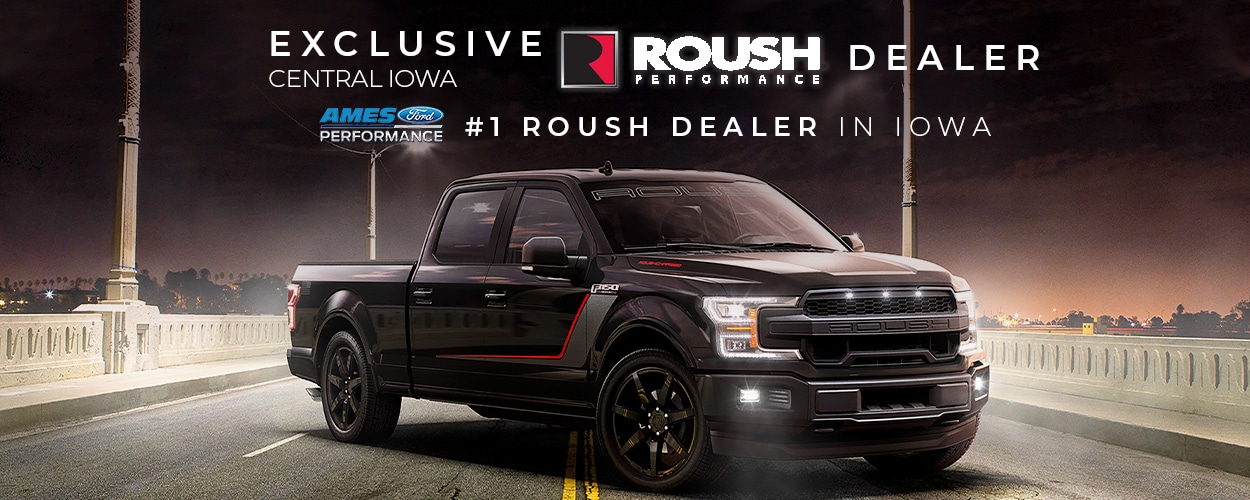 While most ROUSH F-150 models focus on off-road performance, the 2020 ROUSH F-150 Nitemare is built for the street. Featuring a sport lowering kit, as well as the same powerful supercharged engine as the F-150 SC, the Nitemare is the ultimate performance truck. Boasting a 0-60 time of just 3.9 seconds, the ROUSH Nitemare will stun bystanders and Iowa owners alike with its instant torque and smooth ride.
ROUSH Raptor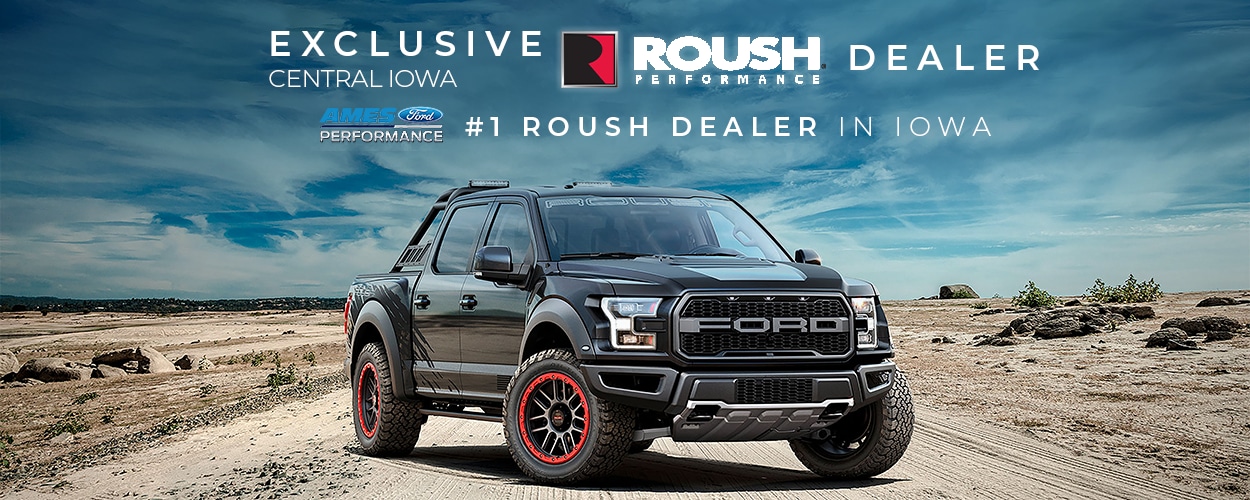 Every ROUSH pickup truck boasts incredible performance and rugged durability, but the ROUSH Raptor stands alone when it comes to off-road chops. Featuring the highest quality off-road equipment, as well as premium interior and exterior features, the ROUSH Raptor will not be outdone. ROUSH has also added an upgraded front brake package from Alcon for added control and precision.
ROUSH Super Duty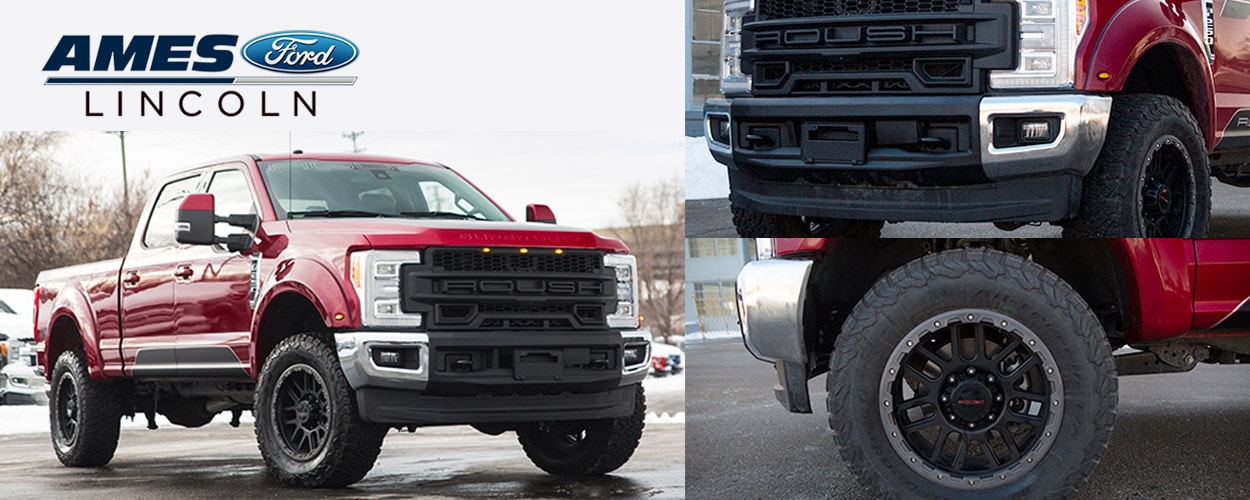 With their modifications to the Super Duty pickup truck, ROUSH has cemented itself as the true king of performance. Already best-in-class when it comes to towing and hauling, the Super Duty has been transformed into a formidable off-road beast with looks to match by the ROUSH Performance team. The best part? Ames residents can find it at Ames Ford, Iowa's premier ROUSH Performance dealership.
Shelby
---
If you are into performance vehicles, you know Carroll Shelby. A legendary racer turned builder, Carroll Shelby is synonymous with the performance and kit car industries in America. It is difficult to overstate his influence on American car culture. Ford's current Shelby GT350 & GT500 Mustangs carry on that tradition.
Shelby GT350
The Shelby GT350 Mustang has already earned its place in history and in garages across Iowa. Designed from the ground up for driving enthusiasts, the Shelby GT350 is a true performance Mustang. With distinct Shelby styling, superior attention to detail, and thrilling performance, the Ford Shelby GT350 is a prime example of the American muscle car.
Shelby GT500
The Ford Shelby GT500 is the culmination of Shelby's work with Ford, combining aesthetic and performance elements not found anywhere else. From its aerodynamic features to the immense engine power under the hood, the GT500 is Ford's ultimate Mustang. Powered by a supercharged 5.2l V8 producing a whopping 760 horsepower and 625 lb-ft of torque.
Shelby F-150
The Shelby F-150 is powered by a 5.0L V8 Coyote engine that outputs an impressive 395 horsepower and 410 lb.-ft. of torque. While these numbers are impressive, to say the least, the fun does not stop there. The optional supercharger pushes the horsepower output up to 775! The system is comprised of high-flow fuel injectors, an oversized carbon-fiber intake line, and a large billet throttle body.
⚡ 

STOP DAYDREAMING, START DRIVING 

⚡
Our Performance department is proud to be Iowa's leading seller of ROUSH & Shelby vehicles and upgrades. If you have been looking for a powerful ROUSH or Shelby Mustang in Iowa, or looking to upgrade your truck or Mustang, you've been looking for Ames Ford Performance. As an authorized ROUSH Performance dealership, we can offer Iowa drivers their full lineup. Ames Ford also has a ROUSH-certified service team to install your authentic ROUSH parts and upgrades.