With their modifications to the 2019 Super Duty, Roush has cemented itself as the true king of performance. Already best-in-class when it comes to towing and hauling, the Super Duty has been transformed into a formidable off-road beast with looks to match by the Roush team. The best part? Ames residents can find it at Ames Ford, Iowa's premier performance dealer. Any Iowans who are serious about performance vehicles should visit us and try out Roush's newest lineup today.
Now, let's take a look at the 2019 Roush Super Duty pickup truck.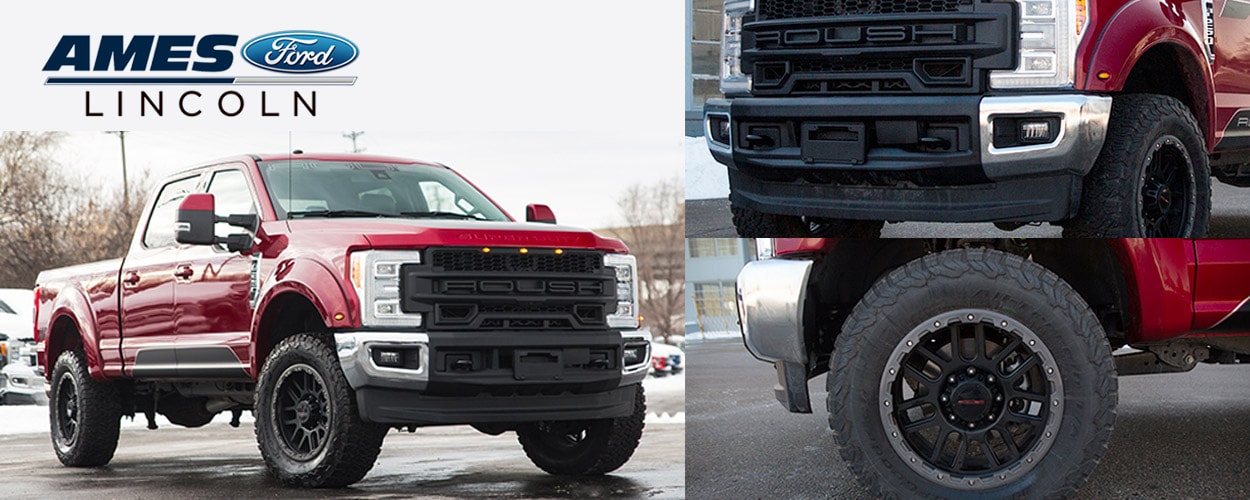 The Art of Performance
When you see the 2019 Roush Super Duty, you know it. There's no mistaking the aggressive stance, unique styling, and powerful look of a Roush vehicle. One of the things our Roush customers appreciate is their ability to choose decal options, adding personal style to Roush's already attractive lines. Whether you want to let the world know you're in one of Roush's creations or fly stealth with just a classy side stripe, Roush gives Ames buyers the chance to make it theirs.
But the exterior modifications aren't just about style. The Roush-exclusive grille not only gives the 2019 Roush Super Duty an intimidating first impression, it is also compatible with adaptive cruise control. This is a great example of Roush's philosophy of providing performance improvements without sacrificing safety or handling of the base vehicle. The new front grille comes with accent lighting and and an off-road inspired design to make it clear the this Super Duty means business. Roush 20-inch wheels are spot-on, and also provide great functionality with high-quality contacts, unlike other aftermarket wheels that can sacrifice towing performance. Every aspect of the 2019 Roush Super Duty has been designed to maximize both form and function.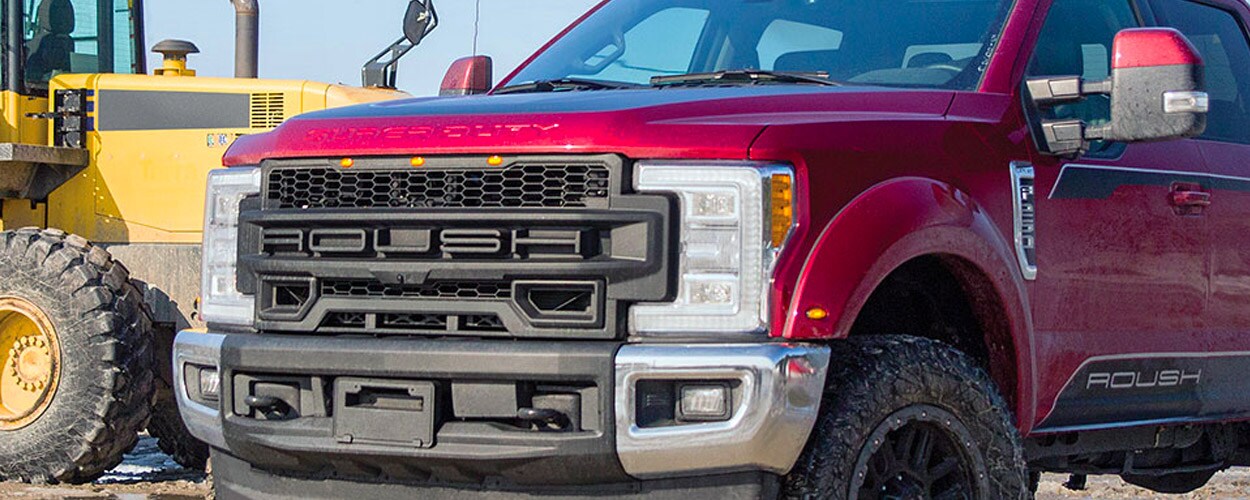 Ready for Anything
Roush's goal with their 2019 Super Duty was to create a performance truck that could not only handle the harshest off-roading, but also perform on the job site. That's why, despite several off-road specific modifications, the Roush Super Duty retains all of its power and stability to get the job done. One of the most important modifications to Roush's Super Duty is the Roush/Fox 2.0 suspension. Raising the truck's stance and overall height by 1.5", the new suspension provides all the stability Ames residents expect from their heavy duty pickup truck while adding ground clearance and off-road performance tuning.
The innovative suspension sits atop upgraded BFGoodrich KO2 All-Terrain 35.3-inch tires. Paired with Roush's premium 20-inch wheels, these tires provide the absolute pinnacle of off-road performance. And like all Roush modifications, they add a level of style that just isn't found on the standard Super Duty. Roush's Off-Road Utility Kit again raises the bar for off-road performance, giving Ames owners all the tools they need to conquer the backcountry. The Roush-branded WeatherTech floormat system is icing on the cake, and helps protect the truck's well-appointed interior even in the harshest conditions.
Roush or Bust
It's no secret that Roush vehicles represent the best in performance, but they also bring peace of mind through great warranties and certifications, things you won't find when looking at other aftermarket solutions. At Ames Ford, we know performance, and are excited to bring our Ames customers the 2019 Roush Super Duty. Already a class-leading pickup in almost all respects, the Super Duty is taken to another level of both style and performance by Roush's legendary modifications. Come into the dealership to experience true performance yourself. Experience the 2019 Roush Super Duty.