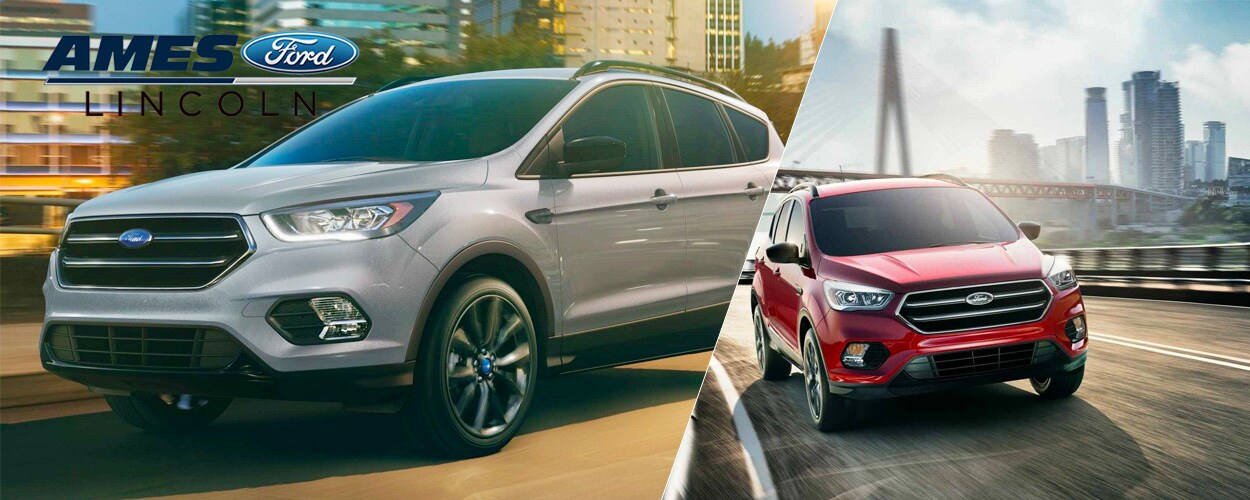 Shopping for a midsize crossover can be a challenge. There are so many brands and models to choose from, it makes our heads spin. One great choice to consider is the Ford Escape-it has been one of the best selling SUVs on the market for over five years with record sales of 306,492 in the United States between 2015-2016. Lucky for you, we have several in stock at all times. Our staff here at Ames Ford Lincoln located at 123 Airport Rd, Ames, IA put together 9 reasons why you should consider buying one of these popular SUVs. Call 515-233-1913 to set up a test drive.
9 Reasons to Buy a Used Ford Escape
1. Attractive Styling
We think the Ford Escape is one the more stylish crossovers currently in production. The sculpted bold look gives the Escape some character without going overboard. The front-end has nice symmetry, the headlights tie everything together from the grille to the doors. And the black accent trim gives it a finished look.
2. Large Cargo Space
The Ford Escape has a ton of cargo space for its class-one of the best. With the back seat upright, there's 34 cu ft of cargo space-enough room to fit 10 pieces of carry-on luggage. When the 60/40 rear seat is folded flat there's 70 cu ft of cargo space-enough room for 23 pieces of carry-on luggage. The bonus, however, is that while most competitors have a higher floor, the Escape has a low cargo floor making it easy to get your things in and out of the vehicle.
3. Fantastic Safety Scores
The Ford Escape gets a high rating in crash tests. The National Highway Traffic Safety Administration (NHTSA) gave it five out of five stars in the front crash, side crash, and rollover tests. All Escape models come with a tire-pressure monitoring system and brake assist. The Insurance Institute for Highway Safety (IIHS) gave the Ford Escape a top rating of 'good' for moderate overlap, side impact, roof strength, head restraints, and seats as far back as 2009. Ford's Personal Safety System features dual-stage airbags designed to keep the driver and passenger from being injured by the airbags, side airbags protect the driver and front-seat passenger from a crash at any angle, and knee airbags are included for the driver.
4. Optional All-Wheel Drive
The Ford Escape has standard front-wheel-drive with an available all-wheel drive option-perfect for Midwest folks who need a vehicle that can handle any road conditions. Whether the roads are rain-soaked or covered in snow and ice, the Ford Escape offers excellent traction, even for some light off-road fun.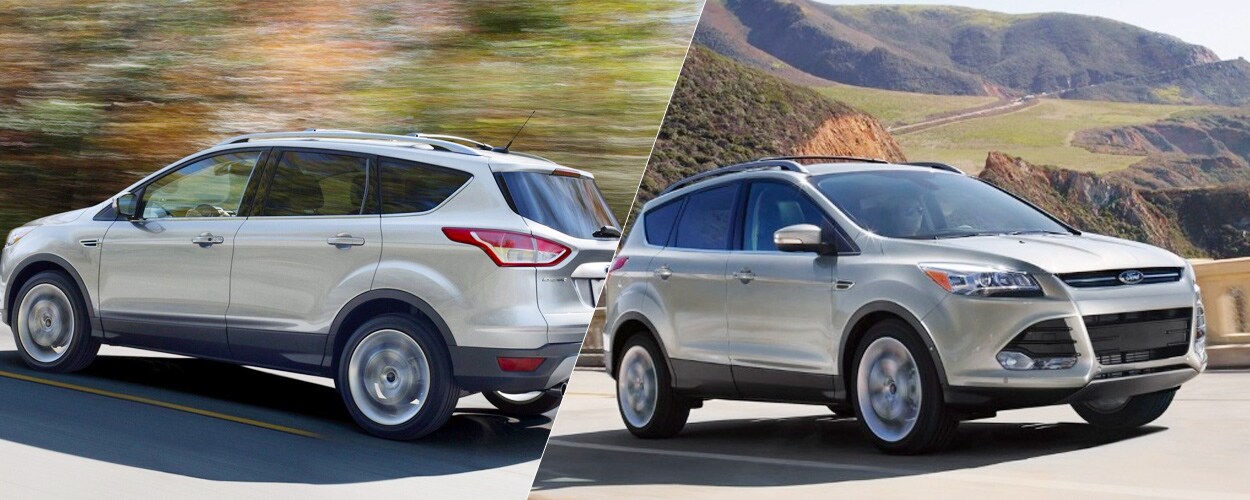 5. Affordable Price
You'd be surprised at how affordable this SUV really is. If you're on a tight budget, it's worth checking out. For all of the safety and tech features that Ford includes in Escape, you'd expect to pay thousands more. You can get a 2011 Ford Escape XLT for $10,298, a 2013 Ford Escape Titanium for $13,586, a 2014 Ford Escape Titanium for $17,298, and a 2018 Ford Escape SE for $20,984.
6. Infotainment System w/Ford's SYNC
Ford's SYNC 3 system features a large touchscreen with Apple CarPlay and Android Auto connectivity. Newer models, scubas the 2018 Ford Escape, include Ford's MyKey, panoramic sunroof, dual-zone automatic climate control, a 10-speaker Sony stereo, satellite radio, and navigation. Every model year is going to include different options based on what was standard and available at that time, and what the previous owner opted to purchase. Always be sure to do your research on a used Ford Escape to be sure you're getting options you need and are not paying extra for options you don't need.
7. Strong Fuel Economy
The Ford Escape's 2.5-liter I-4 gets an estimated EPA rating of 23 mpg city and 26 mpg highway. The more efficient 1.5-liter 4 cylinder EcoBoost engine gets an estimated EPA rating of 23 mpg city and 32 mpg highway.
8. Premium Interior
The interior is made up of high-end materials and is more luxurious than its competitors at this price range in the same class. The front seats are wide and are extremely comfortable. The backseat is roomy enough for three adults with ample head and leg room, and there are two full sets of LATCH child safety seat connectors.
9. Ride, Handling, and Steering
The Ford Escape gets rave reviews when it comes to ride, handling, and steering in comparison to its competitors. Drivers find that it strikes a good balance between comfort and sporty. Steering is responsive, braking feels strong, and it has the highest level of cornering in comparison to its competitors-0.85 g of adhesion. The Ford Escape has a quiet cabin, steering is precise, and its soft suspension gives drivers and passengers a comfortable ride-it absorbs bumps and varying road conditions to the point where you barely feel a thing.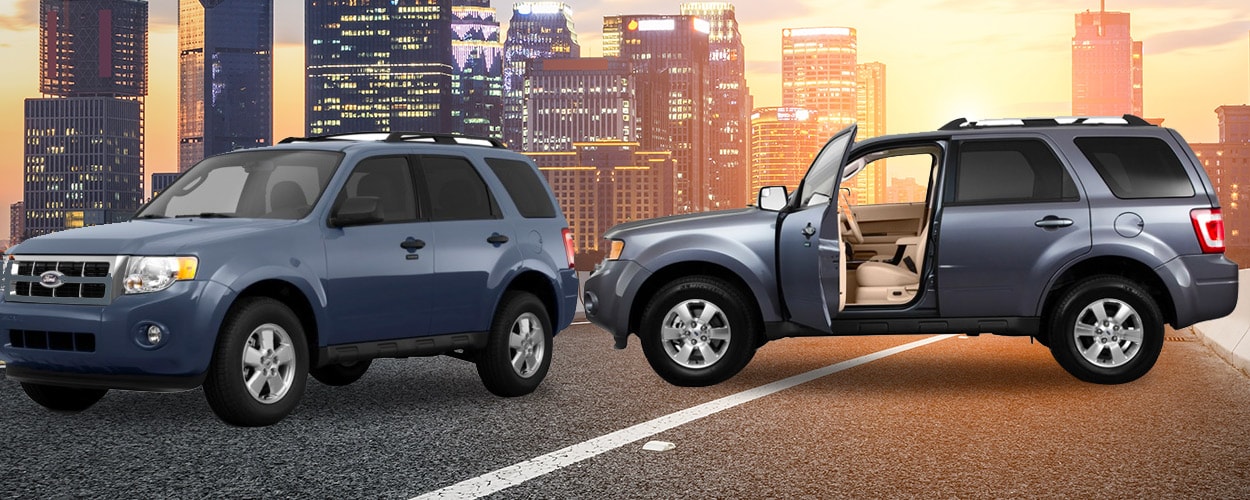 Conclusion
There are many reasons to purchase a used Ford Escape, the first of which is saving thousands of dollars; not just on the overall price of the vehicle, but also on insurance. When you're ready for that perfect Ford Escape compact SUV, make sure to check out our online inventory and talk to a sales rep 515-233-1913 here at Ames Ford Lincoln located at 123 Airport Rd, Ames, IA about the details of the used Ford Escape you're looking to purchase. We're just a short drive from Kelley, Midvale, Shipley, Gilbert, and Nevada.