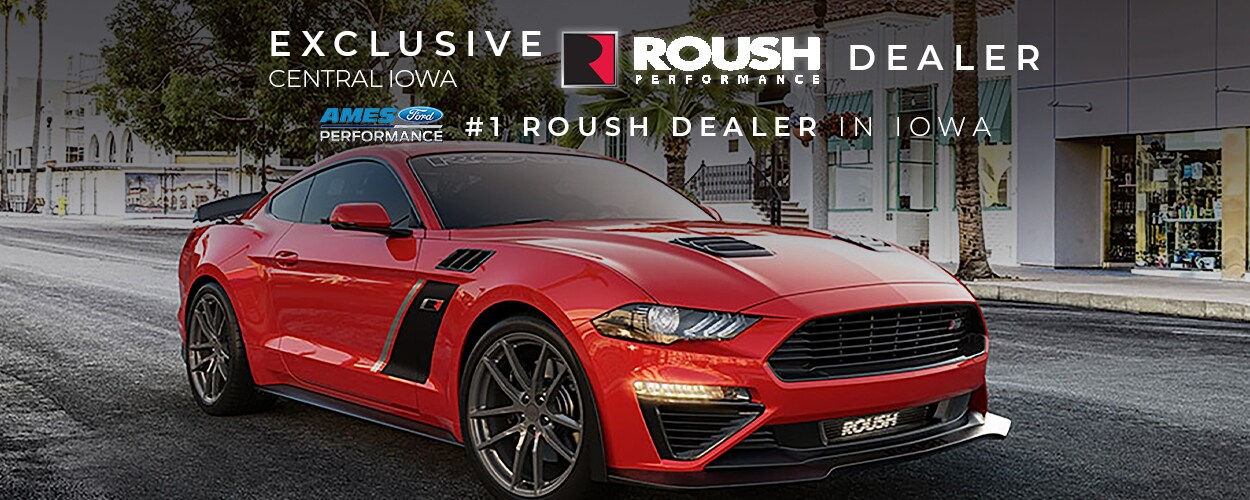 When shopping for performance vehicles and custom Mustangs, Central Iowa shoppers know that Ames Ford is the region's premiere destination. The 2020 ROUSH Stage 3 Mustang adds to Ames Ford's impressive stable of custom Ford Performance cars. Whether you're in Des Moines, Waukee, Marshalltown, or right here in Ames, we are your #1 Ford Performance dealer. And not only do we offer Ford's Performance vehicles straight from the manufacturer, we are also the #1 ROUSH Performance dealer in Iowa.
If you are not familiar with ROUSH vehicles, then you have been missing out on the highest-performance custom Mustangs for sale in Iowa. And there is no better example than the 2020 ROUSH Stage 3 Mustang. The ROUSH Mustang Stage 3 offers 750 horsepower, performance upgrades, and unique interior and exterior elements. It is unlike any other Mustang you will find near Des Moines.
ROUSH Mustangs in Iowa can be hard to come by, but not when you come to Ames Ford in Ames, IA. Our customers from West Des Moines, Waterloo, and Cedar Rapids have chosen Ames Ford when it comes to buying a custom Mustang from ROUSH. Why? As Iowa's #1 ROUSH Performance dealer, we bring Central Iowa shoppers the opportunity to purchase, customize, and drive the best custom Mustangs you'll find anywhere.
Have you been dreaming of tearing up Story County in a custom ROUSH Mustang? You will be after learning more about the 2020 ROUSH Stage 3 Mustang. Read on below to learn more about ROUSH Performance Mustangs, and how you can buy one right here in Ames, IA.