The 2021 ROUSH F-150 can be anything that Iowa owners want it to be. An off-road monster, king of the street race, and everything in-between. ROUSH Performance has added all-new features to their F-150 models for 2021, and the best place to find them is at Ames Ford. Ames Ford is the #1 ROUSH Performance dealer in Iowa, and offers the widest selection of available ROUSH models. The 2021 ROUSH F-150 comes in more versions than ever before, and Des Moines drivers will fall in love with its combination of style and performance.
Below, we're going to look at the signature ROUSH F-150 that has impressed so many of our Iowa customers. However, there are also all-new models in the ROUSH F-150 lineup for 2021. So read on to learn more about the ROUSH F-150, ROUSH F-150 SC, ROUSH F-150 Nitemare, and ROUSH Raptor. We will also look at the limited-edition ROUSH F-150 5.11 Tactical Edition, which combines stealth looks with hard-wearing performance.
You will find links to our ROUSH Performance department below, as well as information on other ROUSH vehicles available at Ames Ford. For Des Moines and Ankeny, Iowa drivers who have always wanted to know what an F-150 was really capable of, there's a 2021 ROUSH F-150 that will give you the answer.
The ROUSH F-150
Where the story began
---
Upon first glance, there's no mistaking the 2021 ROUSH F-150 for a stock Ford model. With its aggressive grille and stance, the ROUSH F-150 cuts an imposing figure. However, design elements also contribute to clean lines and a cohesive identity.
Some of the unique touches include accent lighting in the grille and fender flares, as well as ROUSH puddle lights. Combined with the unique front bumper cover and customizable graphics packages, Iowa drivers will enjoy an unbeatable level of style and class with the 2021 ROUSH F-150. In addition to standard upgrades to interior equipment and appearance, there are also several standout options available from ROUSH. These include a chase rack with dual light bars, the ROUSH premium leather package, console vault, and several graphics packages.
However, as with anything from ROUSH Performance, there is a lot more to their custom F-150 than appearance.
Performance Upgrades
Supercharger, suspension & more.
---
The 2021 ROUSH F-150 comes with a ROUSH/Fox 2.0 off-road suspension and lift. This suspension and lift kit on the ROUSH F-150 provides an incredible combination of comfort and off-road performance. The ROUSH F-150's custom suspension and life has been tested in the harshest conditions, so that Iowa owners can be guaranteed peak performance no matter the terrain.
The 2021 ROUSH F-150 is also outfitted with a dual tip performance exhaust, which contributes to increased power and torque, as well as the signature ROUSH growl. All 2021 ROUSH F-150 models will ride on all-new 20" ROUSH wheels and General Tire 33" Grabber AT/X tires. This combination helps ensure maximum off-road performance and reliability, and also provides the grip and comfort that Des Moines owners need in daily driving.
There are also optional performance and convenience upgrades that include a ROUSH Active Exhaust, retractable aluminum bed cover, off-road utility kit, and more. But as mentioned above, there are additional ROUSH F-150 models, which are coming up next.
2021 ROUSH F-150 Models & Features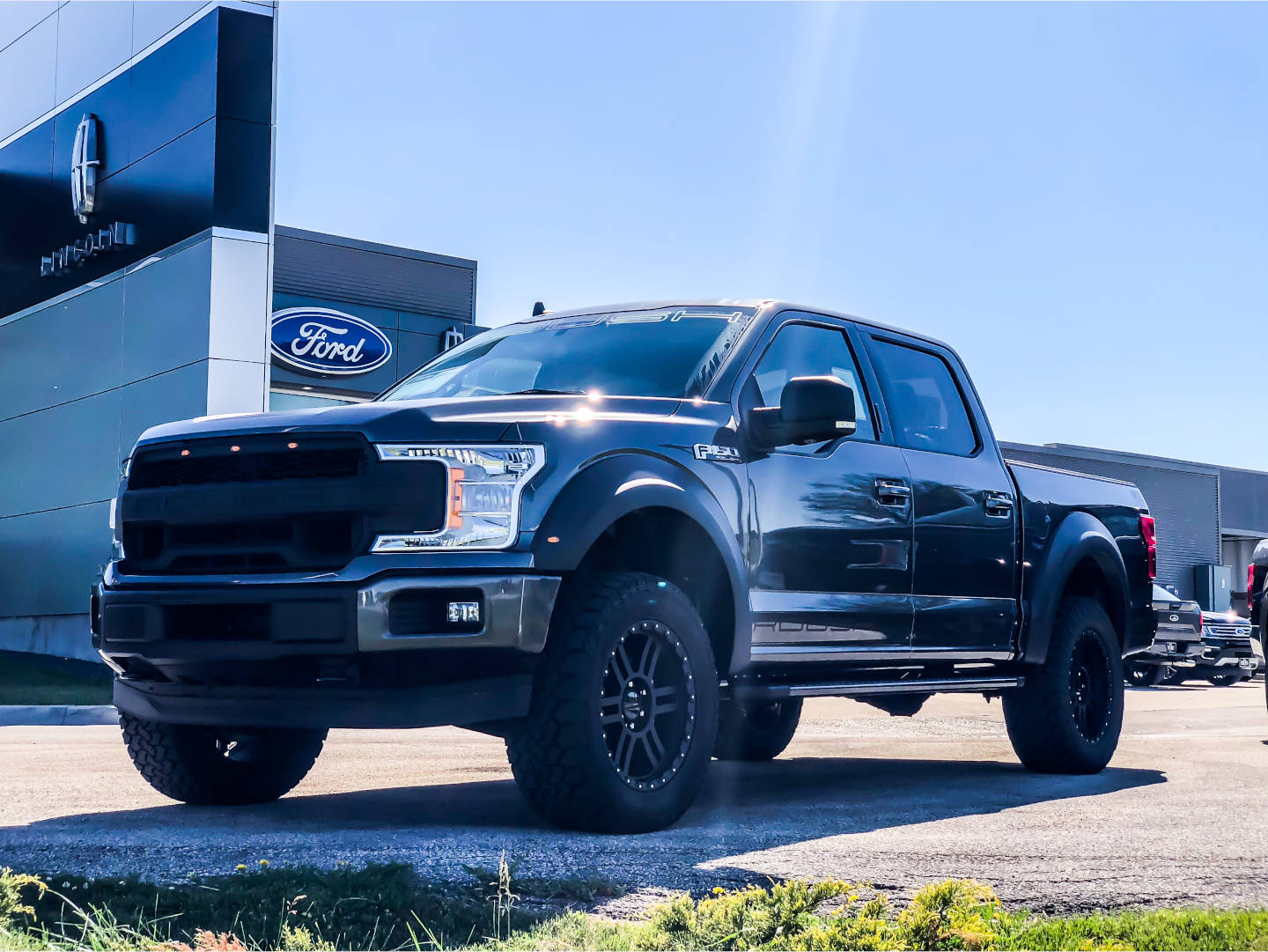 ROUSH F-150 SC
Supercharge Your F-150
---
Iowa drivers who want a 2021 ROUSH F-150 with more power will love the F-150 SC. While in many ways equipped similarly to the standard ROUSH F-150, the F-150 SC comes with the famous ROUSH Supercharger. The 5.0l V8 of the stock F-150 is pumped up to a whopping 650 horsepower and 610 lb-ft of torque. That's over 250 horsepower and 140 lb-ft of torque more than a stock Ford F-150.
The increase in power is due to the ROUSH TVS R2650 Supercharger, which has new inlet and outlet ports for 2021, increasing power across the range. The ROUSH F-150 SC's powerful engine is paired to a special ROUSH Dual Tip Cat-back Performance Exhaust, which maximizes power delivery and torque. Des Moines owners will be thrilled with the powerful performance of the 2021 ROUSH F-150 SC.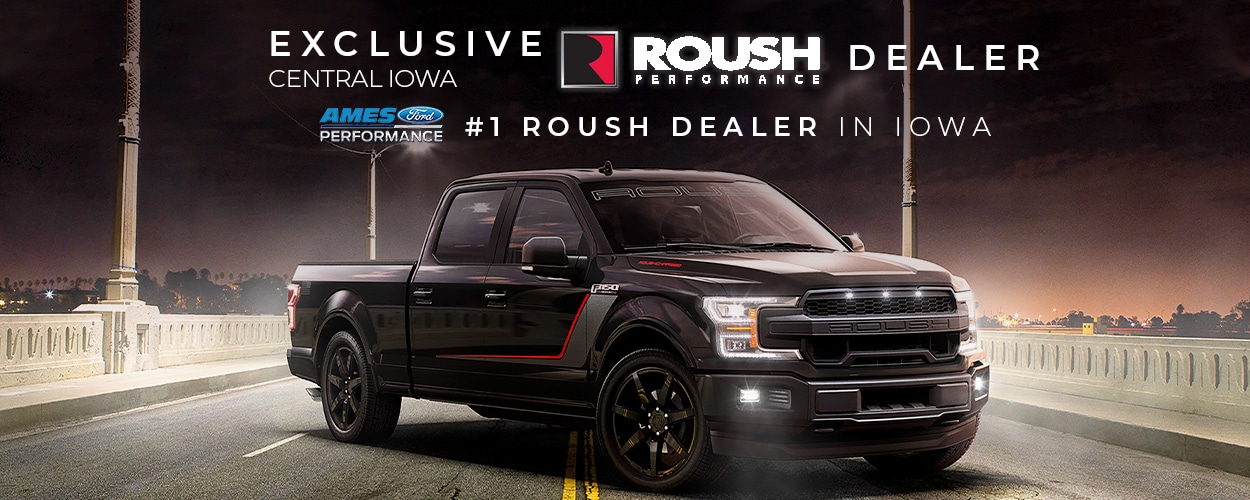 ROUSH F-150 Nitemare
Stalk the Streets
---
While most ROUSH F-150 models focus on off-road performance, the 2021 ROUSH F-150 Nitemare is built for the street. Featuring a sport lowering kit, as well as the same powerful supercharged engine as the F-150 SC, the Nitemare is the ultimate performance truck. Boasting a 0-60 time of just 3.9 seconds, the ROUSH Nitemare will stun bystanders and Iowa owners alike with its instant torque and smooth ride.
The ROUSH F-150 Nitemare rides on unique 22" ROUSH wheels and Continental CrossContact tires, providing unrivaled control and everyday comfort. The lower body height adds stability around curves, and signature ROUSH Nitemare styling has Iowa owners ready for high-class events and drag racing. The Nitemare is truly unique among ROUSH pickup trucks when it comes to style and function.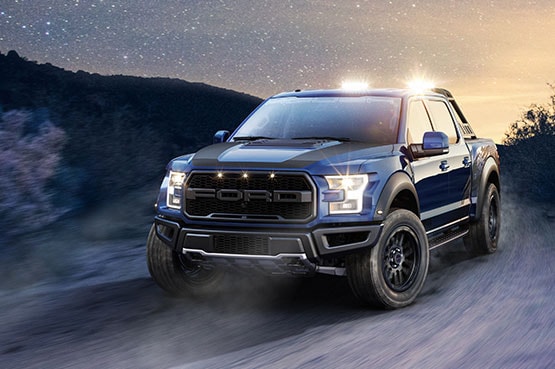 ROUSH Raptor
The Off-Road King of Iowa
---
Every ROUSH pickup truck boasts incredible performance and rugged durability, but the ROUSH Raptor stands alone when it comes to off-road chops. Featuring the highest quality off-road equipment, as well as premium interior and exterior features, the 2021 ROUSH Raptor will not be outdone. For 2021, ROUSH has added an upgraded front brake package from Alcon for added control and precision.
The wheels on the ROUSH Raptor are satin gray, with exchangeable trim rings. This allows Des Moines owners to change their Raptor's look when it suits their fancy. The 2021 ROUSH Raptor's specialized suspension, tires, and exhaust all combine to give Iowans the best off-road experience they can get. Additional options allow Des Moines owners to customize their ROUSH Raptor even further.
And though the 2021 ROUSH Raptor is an unbeatable off-road beast, it's also comfortable and classy enough for any occasion. Combining the best of ROUSH equipment and styling, the ROUSH Raptor is truly the cream of the crop.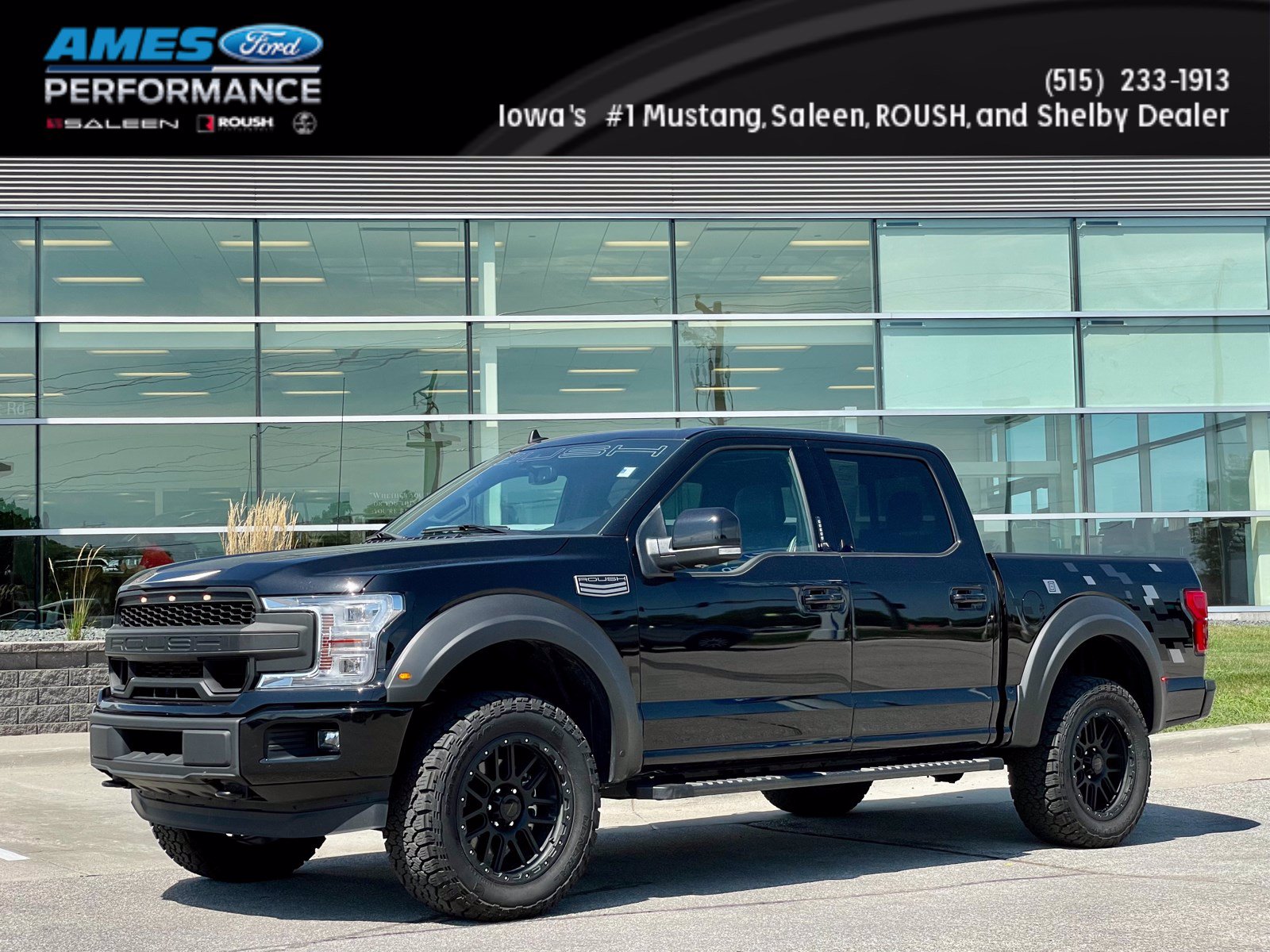 ROUSH F-150 5.11 Tactical Edition
Limited Run Collaboration
---
For this 2021 special edition ROUSH F-150, ROUSH has partnered with 5.11 Tactical, another company committed to lasting quality and the utmost performance. Ames, IA drivers lucky enough to snag a 5.11 Tactical Edition F-150 from ROUSH will find that they have gone all out on this model. Nearly all of the optional equipment from other ROUSH pickup trucks is included as standard. The 5.11 Tactical Edition also comes with exclusive equipment designed solely for this ROUSH model, as well as unique styling.
All the off-road performance of the ROUSH F-150 SC is here, along with a special tool kit and standard Active Exhaust. Only 150 of these special ROUSH pickups are being sold in 2021. But don't worry, we think this could be a successful partnership between ROUSH and 5.11 Tactical that we will see again.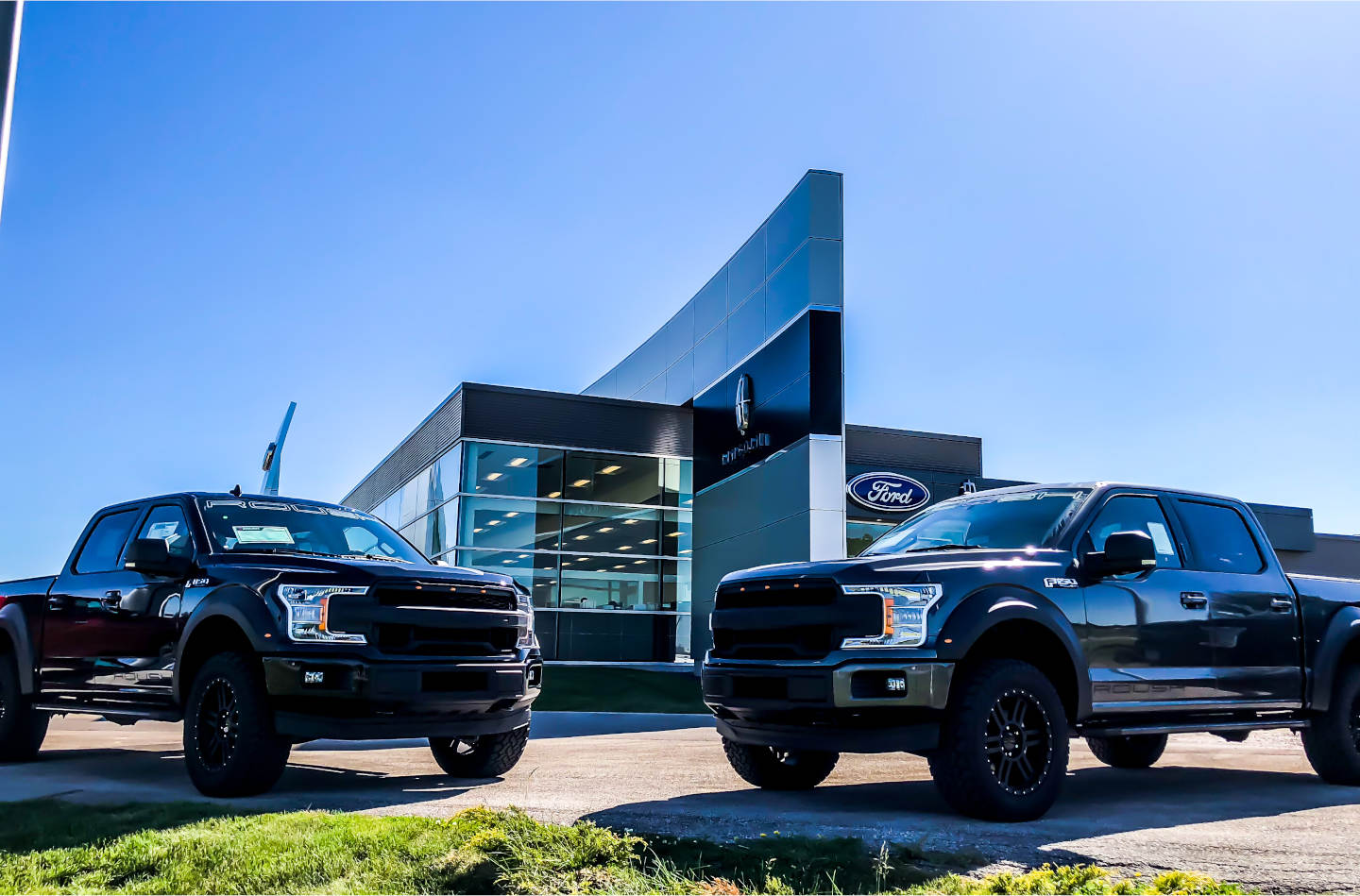 Ames Ford Performance
Visit Iowa's #1 Dealership For All Things ROUSH F-150
---
As our Iowa customers know, there's really no truck like a ROUSH F-150. For 2021, ROUSH has improved their supercharger and added significant upgrades to their custom F-150 models. And when it comes to finding a 2021 ROUSH pickup truck in Iowa, there's no better place than Ames Ford. Located at 123 Airport Rd in Ames, Iowa, we are the #1 ROUSH Performance dealer in all of Iowa.
Our team has the experience to help all customers from Iowa and beyond with all things ROUSH. From the famed ROUSH F-150 discussed in this article, to the impressive ROUSH Mustang lineup, Ames Ford is just as excited about ROUSH Performance vehicles as Iowa enthusiasts. So whether you're shopping for a ROUSH F-150, a Stage 1, Stage 2, or Stage 3 ROUSH Mustang, Ames Ford is the place to be.
If you want to learn more about ROUSH Performance vehicles in Iowa, click through to the articles linked below. You can also contact our Performance Department, and find out how you can get your hands on a ROUSH Performance F-150 or Mustang for yourself. And if even the powerful 2021 ROUSH F-150 can't sate your need for power, maybe it's time to take a look at the 2022 ROUSH Super Duty.