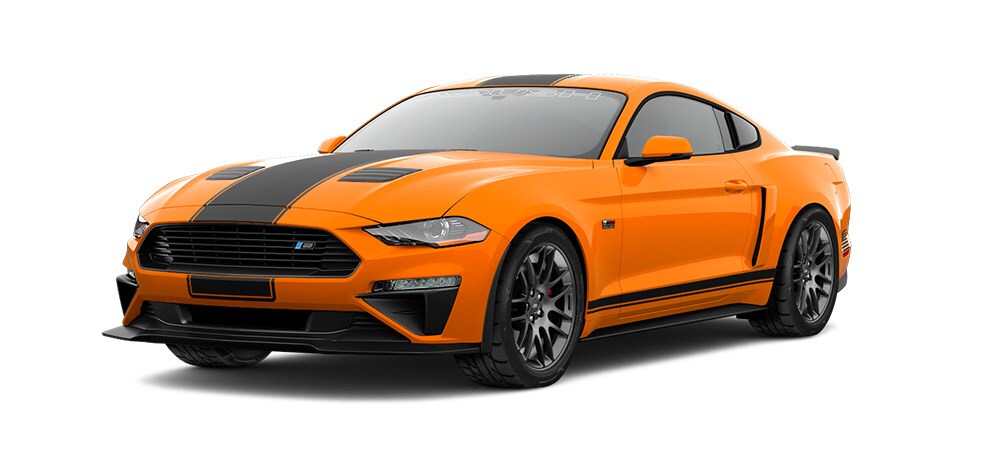 Whats New In the 2018 Stage 2 ROUSH Mustang?
First of all, this years ROUSH Stage 2 Mustang combines the raw power of Ford's 5.0L V8 engine with ROUSH styling and suspension to create the ultimate Mustang experience at Ames Ford in Iowa. The 460-horsepower engine that the Stage 2 has and the aggressive body package define this vehicle by being a real Beast inside and Out.
In order to add even more control,  they upgraded the ROUSH suspension including adjustable height coil covers and ROUSH-tuned valving. The result is no-compromise ride quality to allow for record track performance while, comfortable for street driving. This model also include designed wheels and the Continental Extreme Contact Sports tires.
 
Exterior
The all-new ROUSH R8 aero package sets 2018 Stage 2 Mustangs apart from the competition. This packages include the following components that maximize airflow, and create downforce for better handling and Fuel efficiency. A high-flow upper grille with signature horizontal bars that feature a "2" badge. A chin spoiler has been designed and installed with maximum downforce grip in mind, and also a  functional hood heat extractors also contribute to engine cooling. All this is done to maximize performance while at the same time making the vehicle easy to handle.
An all-new graphics package is standard on the Stage 2 Mustang that brings to the table a more  classic design which can also be acquired in a multitude of different colors. Probably there will be some people who want more unique look, therefore we ave made it easy to give you the option to order additional graphics. These graphics also include the new top performance stripe with coordinated accent striping.
The optional ROUSH Active Exhaust System allows the driver to specifically tune the tone and flow of the exhaust via a smartphone application allowing you to hide the BEAST and let is sound more discrete or when feeling wild the option to unleash its ROAR is one click away.
Core Components
 
20-Inch Quicksilver Wheels with Continental ExtremeContact Sport Tires
 
Performance 1-Way Coilover Suspension SystemAdjustable height
 
RS2 Strut Tower Brace
 
Front Aero Pockets and Wheel Aero Aids
 
High Flow-Upper Grille with "2" Badge
 
High-Flow Lower Opening
 
Front Chin Spoiler
 
Rear Valance Air Foils
 
Hood Heat Extractors
 
Body Side ScoopBody color
 
Matte Black Side Stripe Graphics with Accent
 
ROUSH Fender Badges
 
Rear Blackout Panel with ROUSH Badging
 
ROUSH Front Windshield Banner
 
Stage 2 Serialized Engine Bay Plaque
 
Rear Decklid Spoiler
 
ROUSH License Plate & Frame
 
Hood Strut Lift Assist
 
ROUSH Interior Medallion on Dash
 
Instrument ROUSH Gauge Cluster
 
ROUSH Embroidered Floor Mats
 
Illuminated ROUSH Door Sill Plates
 
Optional Components
In addition, you can have your pick and customize your Stage 2 Mustang with the following:
 
ROUSH Performance Exhaust System with Quad tipsPrepped for Active Exhaust
 
Quad-Tip Exhaust with ROUSH Active Technology
 
Top Performance Stripe Graphic
 
Low-Gloss Black Rear Decklid Spoiler
 
Polished 20-Inch Wheels with Continental ExtremeContact Sport Tires
 
Black 20-Inch Wheels with Continental ExtremeContact Sport Tires
 
Forged 20-Inch Wheels with Continental ExtremeContact Sport Tires
 
"TrakPaK" 3-Way ROUSH Coilover Suspension SystemAdjustable height, jounce and rebound valving
 
Extreme-Duty Half Shafts
 
Billet Performance PedalsManual and automatic transmissions
 
6-Speed Shifter Ball
 
Convertible Style Bar
 
"ROUSH" Trunk Mounted Tool Kit
 
Quarter Window ScoopsBlack - Fastback only
 
Locking Lug Nuts
Ames Ford
In conclusion, our goal is to make your car buying experience the best possible. Ames Ford Lincoln's virtual dealership offers a wide variety of new and used cars, Ford, LINCOLN incentives, service specials, and Ford, LINCOLN parts savings. Hence, located in Ames, Iowa, our Ford dealership is just a short drive from Des Moines, IA, Boone, IA and Ankeny, IA. If you're looking to purchase your new dream car, you've come to the right place. At Ames Ford Lincoln we pride ourselves on being the most reliable and trustworthy Ford, LINCOLN dealer around.