Many of our Ames customers have been asking us to compare the 2018 Ford Escape vs Chevy Equinox. Both of these vehicles are exciting options for 2018, as they've both received full redesigns in the last couple years. That's important for many reasons, but especially because safety, technology, and efficiency have improved a lot in recent years. Below, Ames residents can read our comparison of the 2018 Ford Escape vs Chevy Equinox and decide which compact SUV best suits their needs.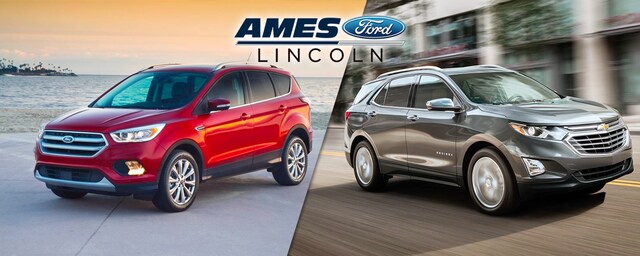 Overview
When shopping for a crossover, most Ames residents know you can't go wrong with the Ford Escape. The Escape has proven itself one of the most consistent, value-packed, and fun small SUVs on the market. The Equinox is much newer on the market, but its recent redesign is definitely turning some heads. Despite the recent redesign, though, people have commented that the Equinox's interior is made with cheap plastics, and doesn't quite fit at the price range. The Ford Escape's interior is constructed of higher quality materials, and also offers more comfortable seating.
 
Driving Experience
One of the best things about the 2018 Ford Escape is the driving experience. Ford has done a great job of tuning the suspension to be very comfortable, while also offering stellar performance. This means that the Escape is great going over bumps in day-to-day driving, but will also hug curves much better than other vehicles in its class. The Equinox has also been praised for its driving experience, offering very good handling, but it also has a very large turning radius. That means that turning around or pulling into a parking space is much harder with the Equinox than its competitors. Comparing the Escape vs Equinox in terms of driving experience, it's clear that they both offer a positive experience, but that the Escape has much better turning.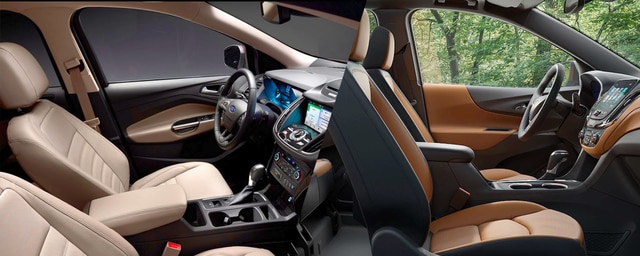 Conclusion
The Ford Escape and Chevy Equinox are both excellent crossovers, but it's clear that the Escape offers some much better qualities. The 2018 Ford Escape's interior quality, technology systems, and driving performance all top those of the Chevy Equinox. The Escape also offers greater cargo capacity. After comparing the 2018 Ford Escape vs Chevy Equinox, it's pretty clear why so many Ames residents consistently choose the Ford Escape. Its quality is just hard to beat. Give us a call, and test drive the exciting 2018 Ford Escape.