Now that Spring is here, a lot of Ames, IA families are looking for their new family crossover. For many, that will entail comparing the 2018 Ford Edge vs Honda CR-V. The CR-V has been a staple of the corssover segment for quite some time, but the Ford Edge has been turning heads with its quality construction and excellent driving experience. Which of these popular compact SUVs will come out on top in our comparison of the 2018 Ford Edge vs Honda CR-V? Ames residents should read on to find out.

Overview
Both the Ford Edge and Honda CR-V were recently redesigned to offer Ames customers the most recent technological improvements. But comparing the 2018 Ford Edge vs Honda CR-V shows that not all things are equal between the two. That's especially clear when it comes to the base models. While both are nice compact SUVs, the base Ford Edge comes with a wealth of features that are only available in the Honda's higher trim levels. And speaking of features, the CR-V offers no options. Each trim level has its own features, but there are no ways to customize or add features. Some Ames shoppers may find that a bit limiting when it comes to their choices.

Powertrain
The 2018 Ford Edge and Honda CR-V both have multiple engine options, but the Ford Edge is the more flexible of the two. Again, that's because the CR-V has certain engines with certain trims, with no option to switch them out. The base CR-V comes with a 2.4l four-cylinder engine, while all other trims come with a turbocharged 1.5l. Meanwhile, the 2018 Ford Edge starts off with a turbocharged 2.0l engine, with an optional 3.5l V6. The top-level Sport trim comes with its own 2.7l turbo V6. This wide range of engines give the Ford Edge, well, an edge when compared to the Honda CR-V.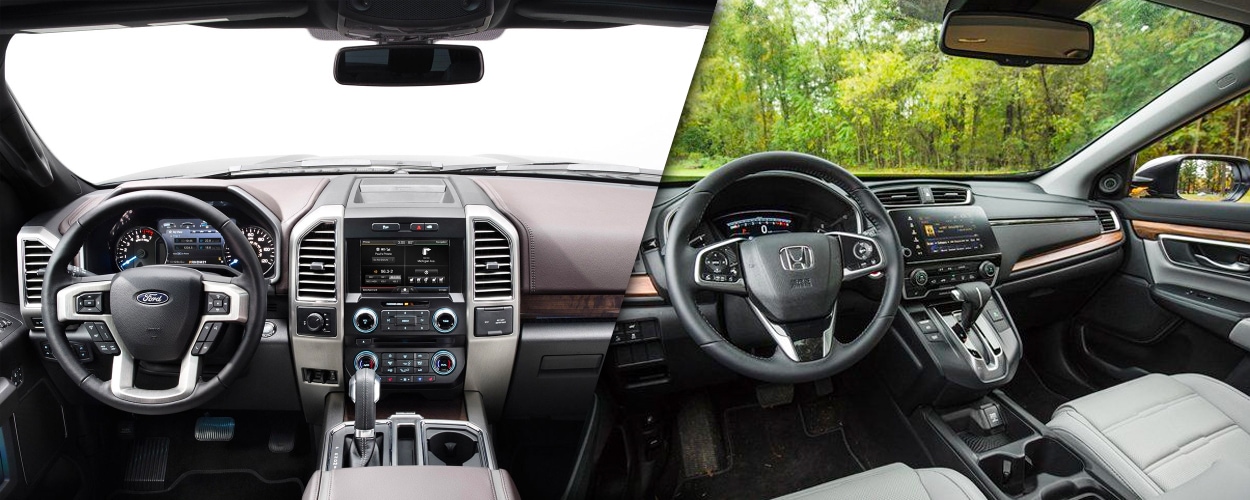 Conclusion
Comparing the 2018 Ford Edge vs Honda CR-V, it's obvious that both are very capable family SUVs. Both have a great deal of utility, and their recent updates keep Ames drivers up to date with technology and safety. When it comes to driving experience, the Ford Edge definitely pulls ahead due to its superior engine lineup. For our Ames customers that want their choice of options, only the Ford Edge offers customization. Honda's choice to not offer options with the CR-V certainly keeps things simple, but there are many consumers who prefer to choose which options come with their new vehicle. So if you're in Ames and looking for a new family vehicle, we highly recommend you give the 2018 Ford Edge a test drive.