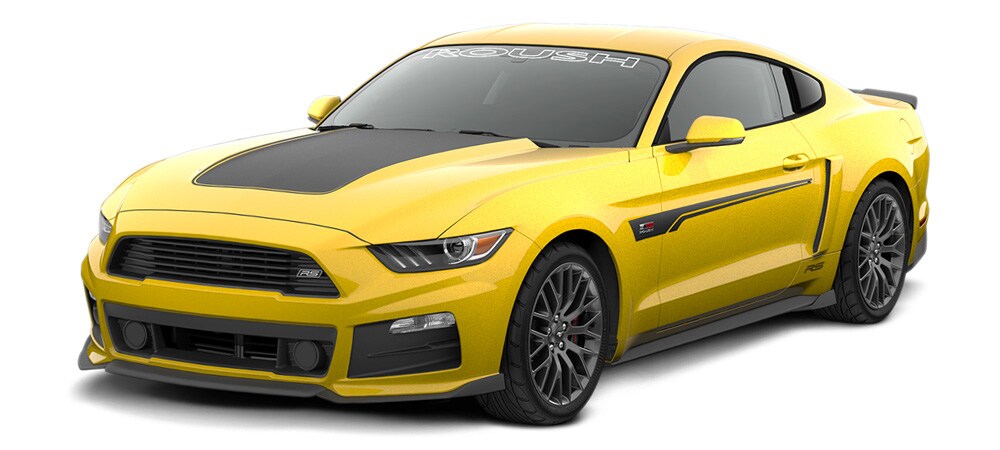 "Between a road car and a race car is a ROUSH car…" - Jack Roush
The 2017 Mustang ROUSH RS is a streamlined fusion of irresistible good looks, stunning body lines, and ferocious tone. The RS's 3.7L V6 engine produces 300 horsepower and 280 lb-ft of torque to get its 19-inch black GT Performance Pack wheels spinning. Delivering an impressive 28 miles per gallon on the highway and 19 miles per gallon in the city, power doesn't come at a fuel expense. The 2017 Mustang Roush RS is outfitted with the ROUSH "R7" Aero Fascia and a list of other body components, which lend to its aggressive styling.
New to the 2017 model year, the car comes with two choices of wheels and tires: standard Mustang GT Performance Pack wheels and tires or optional ROUSH wheels and ultra-high performance tires. Also new for this model year is the optional Low-Gloss Black Rear Decklid Spoiler.
Lower Base Package Price
For the 2017 model year, the base price of the ROUSH Mustang RS package is $4,500, down from the 2016 base price of $5,995.

CORE COMPONENTS
19-Inch Ford Ebony Black Wheels with 255/40R19 Summer TiresSame wheels and tires included on the Ford Mustang GT Performance Pack
Front Fascia with Aero Pockets
High-Flow Upper Grille with "RS" Badge
High-Flow Lower Opening
Front Chin Splitter
Hood Scoop (body color)
Body Side Scoop (body color)
ROUSH Fender Badges
Side Rocker Aero Aids
Rear Blackout Panel with ROUSH Badging
Rear Decklid Spoiler
ROUSH Front Windshield Banner
RS Serialized Engine Bay Plaque
Genuine ROUSH

License Plate
Interior Medallion on dash
Instrument Gauge Cluster
Embroidered Floor Mats
 Door Sill Plates
OPTIONAL COMPONENTS
ROUSH RS Side GraphicsNew for 2017 model year
Hood Graphic
Low-Gloss Black Rear Decklid SpoilerOnly available with Matte Black side and hood graphics
20-Inch Quicksilver Wheels with Ultra High-PerformanceCooper RS3 Series Tires
20-Inch Polished Wheels with Ultra High-Performance Cooper RS3 Series Tires
Dual V6 Performance Exhaust (dealer installed post-title)
Billet Performance Pedals (manual and automatic transmissions)
Ford Leather Seating with Embroidered "RS" Head Rest
ROUSH Leather Seating
6-Speed Shifter Ball
Trunk-Mounted Tool Kit
Convertible Style Bar
Hood Strut Lift Kit
Quater Window ScoopsBlack (Fastback only)
Locking Lug Nuts